Elle, my five-year-old, asks me: "Mom, are you tired?"
"Yes, Elle, I am tired," I say. "How did you know?"
"Because you're wearing all soft clothes."
I look down and realize she's absolutely right. I am wearing, up to and including my shoes, "all soft clothes."
If you've been reading my blog over the last few months, you know that I've been writing about life from the Messy Middle, a place that exists somewhere between "Beginning" and "End." The Messy Middle is undefined, murky, and requires the practice of surrender, which is tiring business. So, yes, if you see me around town, you might notice that just the other week I was wearing plaid socks with Birkenstocks. I've never done that before, but it just seemed right. Or you might see me in, essentially, pajamas, with a fur vest. Because, apparently, when I get tired, I reach for all soft clothes.
Comfort.  
I think the word is comfort. When life changes, when circumstances aren't as we expected, when we are navigating new territory, we need comfort. We can look a lot of different places for comfort — some helpful, some not. (For example, distractions rarely ever deliver the comfort we crave.)
So, then, where might comfort — true comfort, which is solace, help, consolation, strength — be found?
There's nothing like the Messy Middle to remind us that we are in need. And, there is nothing like the season of Advent to remind us that our need is met with presence and power.
We are always in need, and we are always held.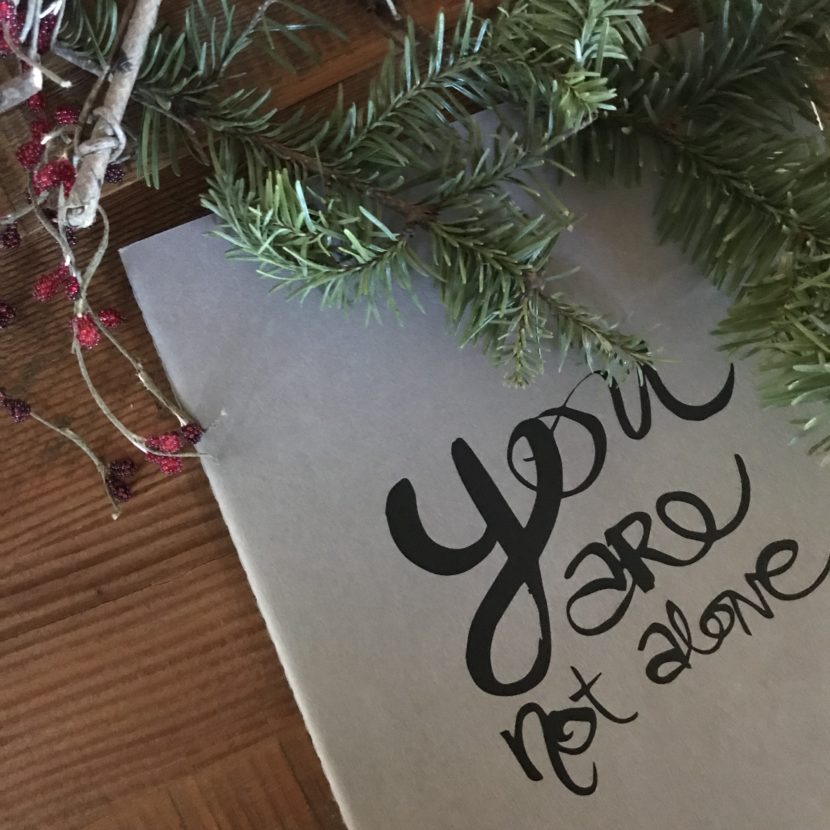 God holds us and meets us and comforts us in so many different ways. Tuesday night I had a big speaking engagement. I was feeling depleted and asking God for his strength to move in on my weakness because that's how I felt: weak. I was sitting at my table and these four warrior sisters just showed up, unannounced. I've known these girls forever. Decades. These four are a part of my everyday tribe. And they walked in and sat down at my table like they just happened to be in the neighborhood (even though the event was 45 minutes from where we live). Not in this picture are the two friends who cared for my babies that night.
So the beautiful truth is that God holds us, he comforts us, he comes to us. Sometimes it's in the form of four fabulous friends. Sometimes it's in the form of his word — alive and awakening — spoken right into our souls. Sometimes his comfort comes in the form of Ugg boots and a stretch waistband. Because when we are weak, he really shines.
Advent reminds us that we are not alone. We never have been. God came to us. And no matter the Messy Middle we are in now, we are not alone. God is here with us. During this first week of advent, we are to reflect on hope.
"Hope is the patient and trustful willingness to live without closure, without resolution, and still be content and even happy because our Satisfaction is now at another level, and our Source is beyond ourselves." -Richard Rohr
So then hope is our patient and trustful willingness to live in the Messy Middles with assurance that our lives are held by Something far greater than us. In that way, Advent is always, Rohr says. Isn't that a beautiful line, a beautiful concept. We are always waiting. And we are always held, met, comforted.
If you are in need of comfort — some soft clothes for the soul — here is a reflection for you: What am I hoping for? How has God brought me comfort in the waiting? 
With love,
Leeana