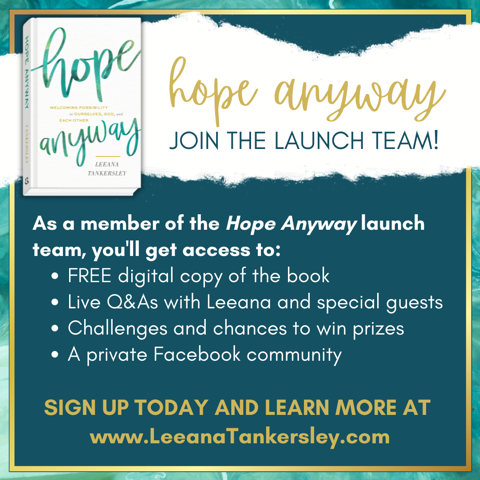 Ok, my friends, it's here! The launch team for Hope Anyway is officially taking members. 💗

As a part of this team, you will get an early digital copy of the book to read, you will be in a private FB group with me and other members to discuss the book and share ideas, and we'll have some live conversations as well as a couple of GOOD giveaways you won't want to miss.

Your job will be to share from your heart about this book with your people.

In order to join the launch team, we're asking that you pre-order the book, complete the form on the homepage, and then just get ready to be a part of this "street team" that's spreading the word about Hope Anyway.

Joining this launch team is a tangible way to support me and this message, so I want to thank you in advance if you decide to join.

I cannot wait to link arms with you guys as we share this vulnerable and vital topic. Hope is possible. Hope is here. Let's share it!!!
Love upon love,
Leeana