BEGIN AGAIN:
The brave practice of releasing hurt & receiving rest
(Revell, 2018)
What happens when life begins to trip us up and failure starts creeping in? Many of us just keep on doing the same thing, hoping for different results. Some of us look for escape, to find a way out of the mess we feel that we've created. But neither enduring nor escaping is ultimately what we need.
The answer is to allow ourselves to begin again, every day, in every part of our lives. Through engaging, lyrical prose, Leeana Tankersley shows women how to forgive themselves, develop new and healthier patterns of living, and do away with resentment and regret. Her life-giving words will free women who are feeling stuck and allow them to clear out the debris to make room for what God wants to do in their lives. To begin again is to open the window, even a crack, to let the breeze of grace come in. It is a call to stop running from our fears. To take one small step toward becoming the brave women we were made to be.
AVAILABLE NOW AT THESE RETAILERS
PRE-ORDER NOW
Releases April 3
Pre-order now and sign up for my email newsletter to make sure you don't miss out on the special pre-order bonuses!
Exclusive Thank You Gifts from Leeana:
Audio book of Begin Again read by Leeana -- available for download on April 3
"Always we begin again" -- A designed quote ready for you to print and frame
A weekend retreat with Leeana -- Three audio files of talks Leeana gave at a recent weekend retreat
"Messy Middles" -- An exclusive bonus chapter
PRE-ORDER BONUSES!
Once you pre-order Begin Again return here and click on the link below to receive bonuses.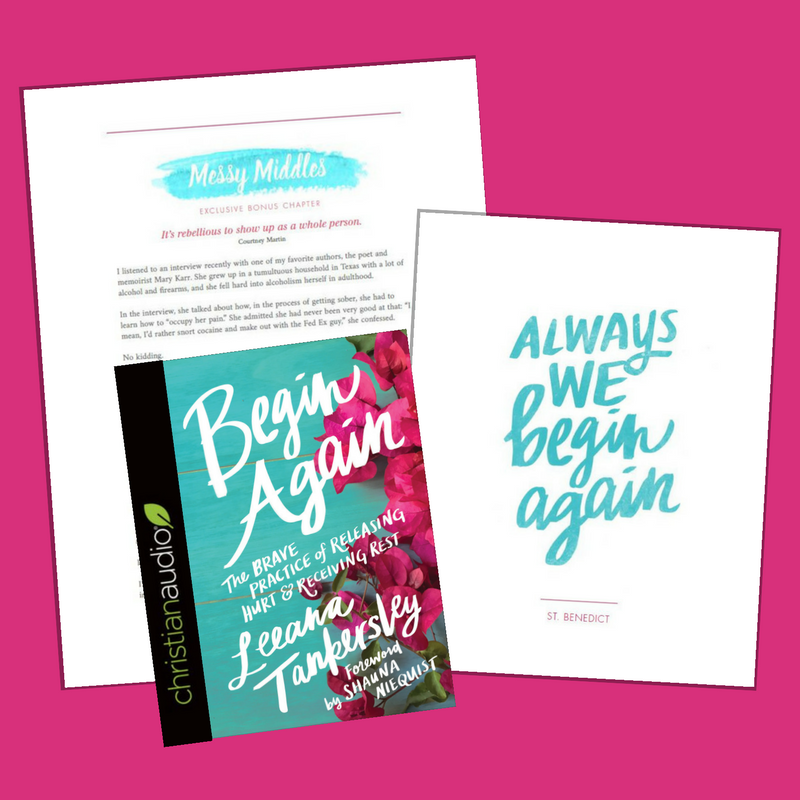 BRAZEN:
The Courage to Find the You That's Been Hiding
(Revell, 2016)
There are so many moments in life when we choose to silence our intuition, abandon our own voice, and play small because we wonder, deep down: "Do I know who I really am? Is who I really am enough?" It's courageous work to learn to live from our essential identity–loved, worthy, whole. But what if God is calling us to shamelessly recover the woman he created us to be? What if God is urging us to be–for the first time in our lives–brazen?
The word brazen means without shame. Leeana Tankersley wants women to be just that–to unapologetically move from shame- and fear-based living toward lives that are based on love and belonging. With moving personal stories and spot-on observations of the longings we all experience–to know we are loved, to feel comfortable in our own skin, to be heard–Tankersley calls women to honor that voice deep down inside of them rather than bowing to outside influences that push them to become someone they're not. Gritty and overflowing with grace, Brazen will set women free to be truly themselves in a world bent on molding them in its image.
BOOK AVAILABLE AT THESE RETAILERS
BREATHING ROOM:
Letting Go So You Can Fully Live
(Revell, 2014)
Leeana Tankersley, like so many of us, began to feel overwhelmed by life. And like so many of us, she assumed she was struggling not because life is inherently difficult but because she was personally failing in some way. She knows firsthand what it is to bully yourself, to put yourself down for not being able to keep it all together, to compare yourself to others and find yourself lacking. But she's also discovered that all of the hurt and hostility and pain only add up to a life of holding your breath. What if we could exhale and let go?
Breathing Room is her beautiful release of self-condemnation, her discovery of the rest that comes when we give ourselves some space to breathe. She draws readers in through shared experiences of perfectionism, jealousy, and striving and shows them how to let go, how to be radically on their own team, and how to experience the broad grace that Christ has offered all of us.
Anyone who has been trying to do it all, who has been putting on a strong front and yet secretly struggling, will find in Breathing Room both a trusted friend and a generous Savior.
Download the 6 week study guide
BOOK AVAILABLE AT THESE RETAILERS
FOUND ART: Discovering Beauty in Foreign Places
(Zondervan, 2009)
Found Art is a memoir of the year author Leeana Tankersley lived in the Middle East with her Navy SEAL husband during the wars in Iraq and Afghanistan. After a whirlwind courtship, a move across the world, and the unexpectedly difficult re-entry from a year overseas, Leeana finds her life (and her soul) has been changed forever. With an artist's eye, Tankersley uses each chapter to piece together moments and memories from her journey—a handwritten note from Kuwait, a braid of fringe from a Persian rug, an original poem, a bit of basting thread, a swatch of black silk from a borrowed abaya, a mesquite leaf, a Navy SEAL trident, a receipt from the Russian-Georgian restaurant on Louisiana Street—to create a work of unexpected beauty. Found art emerges … a literary collage created from salvaged stories of loss, hope, and belief that just might change your soul, too.
Download the 6 week study guide
BOOK AVAILABLE AT THESE RETAILERS